In a screenshot that is revealing the Pokémon Anime, we see 4 new Pokemon!
In this picture we see an obvious evolution of Tsutaja, but it's name and colors are yet to be revealed.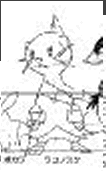 In this we see a POSSIBLE evolution of Mijumaru, other info is yet to be revealed.
Here we see a brand new Pokemon. It is hard to tell what it in fact is.
This new Pokémon seems to be a fluffy ball with a beak and wings. It's name is Koromori. More is to be revealed.