I was wondering if anyone knew about how much they go for or where a good place would be to sell them at?
I think I probably have 500. At least 100 of them are probably energies.
I have possibly 10-30 holographics. I haven't sat down and listed out everything I have just yet.
I stopped collecting when I was still in elementary school, so there aren't any new ones or anything. I think the newest I have is a holographic Jumpluff?
Maybe someone on here would be interested in buying them, actually. Any takers?
I can list them if your interest is peaked at all.
EDIT: Here are some images.
Holographics / Promos:
Spoiler:

Holographic Clefairy
Holographic Pidgeot
Holographic Lapras
Holographic Japanese Jumpluff
Promo Electabuzz
Holographic Ancient Mew [from Pokemon: The First Movie - unwrapped]
Holographic Ancient Mew [from Pokemon: The First Movie - wrapped]
Promo Mewtwo
Promo Mew
Holographic Scyther
Holographic Chansey
Holographic Dark Blastoise
Holographic Dark Machamp
Holographic Ninetails
Holographic Pinsir
Holographic Rocket's Sneak Attack Trainer
Holographic Brock Trainer
Holographic Mewtwo
Japanese: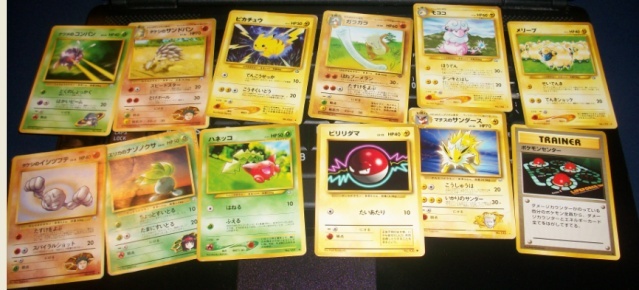 Spoiler:

Japanese Erika's Venonat
Japanese Brock's Sandslash
Japanese Pikachu
Japanese Marowak
Japanese Flaafy
Japanese Mareep
Japanese Brock's Geodude
Japanese Erika's Oddish
Japanese Hoppip
Japanese Voltorb
Japanese Lt. Surge's Jolteon
Japanese Pokemon Center Trainer
ALL of my OTHER Pokemon cards:
Spoiler:


Last edited by adoxography on Sun Aug 01, 2010 6:14 pm; edited 8 times in total