Just found this on the main Pokémon website. It's attacks are pretty crazy ._.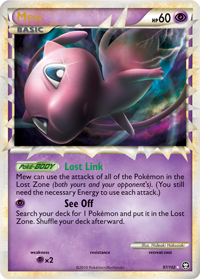 "Even among the many interesting cards in the new Pokémon TCG: HS—Triumphant expansion, Mew Prime (97/102) stands out as something special. Reading the card, you can't help but immediately think of the powerful combinations that can be created with it. The card is a blank slate—all it needs is your creativity.
But in case you're not sure where to start, check out this primer on how to get a Mew Prime deck headed in the right direction. Note that this article doesn't suggest too many actual cards you can use as attackers to play via Mew Prime's Lost Link Poké-Body—that's up to you. This is, however, a brief overview of some key cards you can use to support Mew Prime. Add your own combination of Pokémon whose attacks intrigue you—you'll have the makings of a flexible, winning deck."
Here is the main article with info on a few other cards:
http://www.pokemon.com/us/trading-cards/strategy/tcg_strategy_head-to-the-lost-zone-and-win-with-mew-prime/